Home

/

Women's

/

Down To Earth Teardrop Necklace - NC4895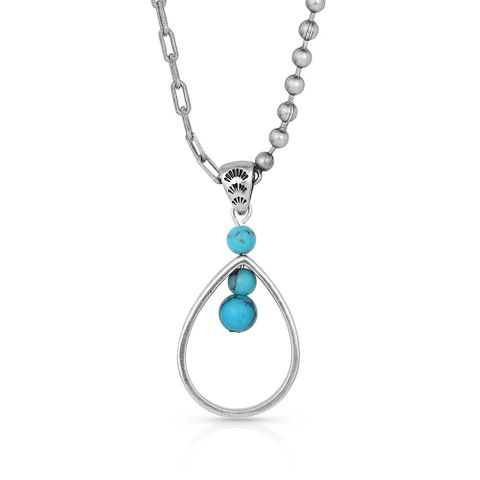 Down To Earth Teardrop Necklace - NC4895
Stock Level
In Stock
In Stock
Inspired by the rain showers Mother Nature blesses Earth, the Montana Silversmiths NC4895 Down to Earth Teardrop Necklace holds symbolism in unrelenting love and offerings. The stylish teardrop necklace begins hanging from a 19 in. chain that is asymmetrical. One side of the teardrop necklace is connected spheres while the other side is small, paperclip linked chains.
Southwestern teardrop design for style
Compressed turquoise stone for a great look
Comes with a 19 in. asymmetrical chain for convenience
Teardrop necklace with rhodium over a brass base for durability
Care Info:
Montana Silversmiths buckles and jewellery has the trademark protective finish Montana Armor, which can keep tarnishing at bay. All you need to do is wipe down the product with a dry, 100% cotton cloth to remove any impurities that may have gathered when wearing. You may use mild soap and water if needed and pat dry with a soft cloth. Do not use jewellery cleaners, silver cleaners, treated polishing cloths, perfumes, hairspray, lotions, hand-sanitisers and make up. Do not soak in water for too long or fail to rinse away soap if used. This can cause tarnishing and damage your item.