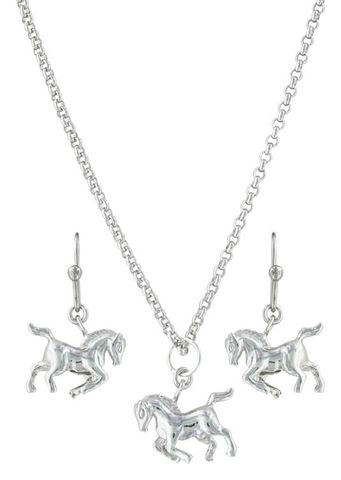 Prancing Horse Jewellery Set - JS3381
Stock Level
In Stock
In Stock
This delightful prancing horse charm jewelry set is sure to please everyone from the littlest horse lover to the biggest. The bright silver tone of the horse has delicate details that seek to capture that wonderful feeling when you see a horse running free across a field. Necklace charm hangs from a matinee length 21 inch chain. Earrings dangle from hypoallergenic stainless steel French hooks.
Dimensions:
Width: 0.527"
Height: 0.5"
Length: 21"
Materials :
Rhodium plated over a brass base. Crystal. Hypoallergenic stainless steel French hooks.
Care Info:
Montana Silversmiths buckles and jewellery has the trademark protective finish Montana Armor, which can keep tarnishing at bay. All you need to do is wipe down the product with a dry, 100% cotton cloth to remove any impurities that may have gathered when wearing. You may use mild soap and water if needed and pat dry with a soft cloth. Do not use jewellery cleaners, silver cleaners, treated polishing cloths, perfumes, hairspray, lotions, hand-sanitisers and make up. Do not soak in water for too long or fail to rinse away soap if used. This can cause tarnishing and damage your item.