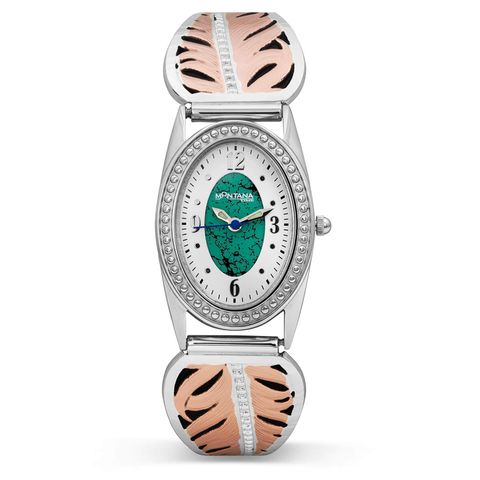 Hope's Feather Watch - WCH4059RG
Stock Level
In Stock
In Stock
To remind us that hope gives us wings when we truly believe. This two tone expansion watch, features a snippet of a rose gold finished feather that stretches across each of the two curved metal bands. The fletching of the feather has irregular separations giving the design a natural windswept look. A center vein of brilliant silver finished microbeads juxtaposes the richness of the rose gold fletching, while the hand painted deep black background emphasizes each curve and tendril of design. A thicker edge of bright silver finish completes the design. The oval silver toned watch face has a center colored like marbled turquoise surrounded by white, with silver toned numbers, hour and minute markings. A fine line of microbeads surrounds the face on the case. One size fits most. 3 Meter Water Resistant.
Dimensions
Width
Height
Length
Materials
99.9% fine silver and 24 karat rose gold plate over a brass base. Paint. Stainless steel timepiece case. 3 Meter Water Resistant.
Care Info:
Montana Silversmiths buckles and jewellery has the trademark protective finish Montana Armor, which can keep tarnishing at bay. All you need to do is wipe down the product with a dry, 100% cotton cloth to remove any impurities that may have gathered when wearing. You may use mild soap and water if needed and pat dry with a soft cloth. Do not use jewellery cleaners, silver cleaners, treated polishing cloths, perfumes, hairspray, lotions, hand-sanitisers and make up. Do not soak in water for too long or fail to rinse away soap if used. This can cause tarnishing and damage your item.